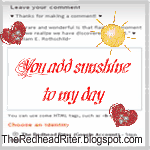 Who could resist such a sweet rewards as the You Add Sunshine to My Day as given to me by Teresa at
Too Many Heartbeats
. A Lovely lady who is suffering with
Dysautonomia.
Don't know what that is? Go over and check out her page. Because of this illness she spends a lot of time immobile and the internet and blogging is a welcome way to pass the time for her.
The best thing about the You Add Sunshine to My Day award is that there are no rules to follow. You can simply pass it on to anyone and everyone you feel adds sunshine to your day. I love those kind of awards. I'd like to pass it on to the 5 Bloggers in the list below.
Not normally a fan of Awards with Rules but Teresa was also sweet enough to present me with a Superior Scribbler Award.
The Rules for which are as follows:
The Rules for this one are:



*

Each Superior Scribbler I name today must in turn pass The Award on to 5

most-deserving Bloggy Friends.
* Each Superior Scribbler must link to the author & the name of the blog from whom he/she has received The Award.
* Each Superior Scribbler must display The Award on his/her blog, and link to This Post, which explains The Award.
*Each Blogger who wins The Superior Scribbler Award must visitThis Post and add his/her name to the Mr. Linky List. That way, we'll be able to keep up-to-date on everyone who receives This Prestigious Honor!
*Each Superior Scribbler must post these rules on his/her blog.

All wonderful bloggers that I just don't get to their pages enough but it's well worth it when I do.
There, are of course, many other wonderful bloggers out there on my blogroll so why not check them out.
And while I've run out time for the moment... there are other blogs out there that adds Sunshine to My Day so... you never know when I might just send one your way.